If you're looking for the best cookies for a cookie exchange party, I've got you! These are the best cookies to bring to a party! This is an awesome list of 19 of the best cookies to share. And in addition to these Christmas cookie exchange recipes, you'll find cookie exchange rules, cookie swap party menu, and tips for how to win the cookie swap this year! And I also include a few ideas for a cookie exchange party to help you throw the ultimate cookie exchange!
If you love this roundup of big batch cookie exchange recipes, you'll love my Quirky Baking Gifts for the Bakers on your List, my 24 Thanksgiving Breakfast Ideas to Start Your Day Right and my list of Foodie Gifts for the Bakers and Home Chefs on Your List!
*This post contains affiliate links — as an Amazon Associate I earn from qualifying purchases. Please see my disclosure for details*.
Best Cookies to Bring to a Party
Happy Holidays! I think it's well established that I love baking cookies. And this is my favorite time of year because I have a great excuse to make lots of them! Today, I'm sharing some of my favorite big batch cookie exchange recipes from some of the best food bloggers and recipe developers around to make sure that you've got all the best cookies for a cookie exchange!
What is a Christmas cookie swap?
So what is cookie swapping? It's so fun! It's a way to get together and share your favorite cookie recipes with friends and family. Everyone meets and brings lots of cookies to share, and they're displayed all together on a large table. Guests can sample cookies while they socialize, and then everyone can pack a box of cookies to take home!
How many cookies do I need for a cookie exchange?
Usually, the host will decide how many cookies to bring for each guests, but the tradition amount is to bring a dozen or a half dozen for each attendee to take home, plus some to enjoy during the party. So depending on the amount of guests, you may need to make 7-8 dozen cookies -- and with these Christmas cookie recipes for an exchange, you can double or tripe the recipes to turn them into big batch cookie exchange recipes and make sure you've got plenty to share!
These chocolate shortbread cookies melt in your mouth and are filled with a dark chocolate ganache combined to create a rich buttery sandwich cookie.
These crispy, flaky French puff pastry treats are filled with shredded coconut and crunchy turbinado sugar. They're such easy cookies, and they're perfect for your cookie exchange!
These gingerbread cookie bars are soft and chewy and topped with cream cheese frosting and all the holiday sprinkles. The perfect alternative to making cutout gingerbread shapes!
These Oatmeal Raisin Marshmallow Cream Pies are a fun recipe to make with your family! They're gooey, chewy, sweet and perfect for any occasion!
Vegan - Gluten-Free - Refined Sugar Free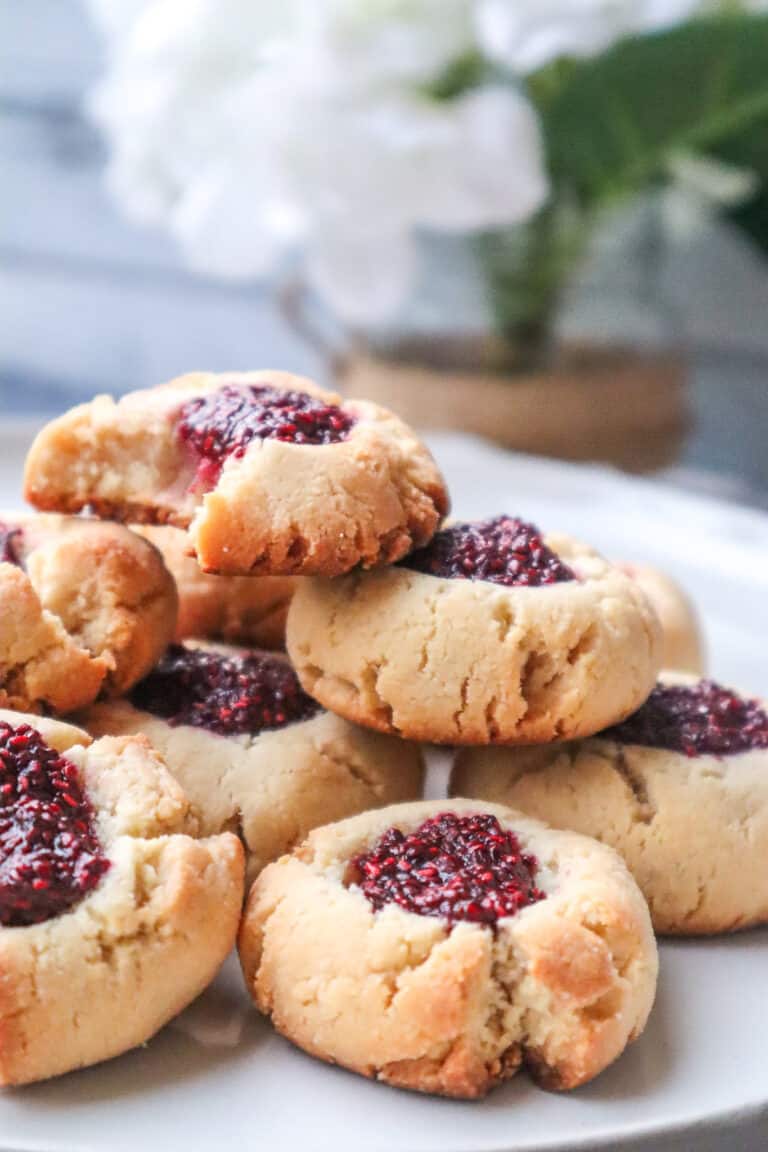 These gluten-free thumbprint cookies with Raspberry Jam come together in less than 20 minutes! These decadent cookies are the perfect Christmas treat that everyone will enjoy!
Nothing indicates the holidays are here like gingerbread and chocolate. So, these Chocolate Laced Triple Ginger Cookies are destined to become your new favorite way to celebrate.
These soft, cinnamon-sugar cookies filled with a gooey salted caramel filling are a guaranteed hit for your cookie exchange party!
After being baked, these Turkish Semolina Cookies are coated with an orange syrup. The perfect cookie for any time of year!
Vegan Recipe
These healthy lemon almond cookies are the perfect simple recipe to brighten up your cookie exchange party. They're vegan, gluten free, dairy free, and are made without refined sugars!
Jazzmine's candy cane cookies are an annual tradition her family never lets her forget! Almond vanilla cookie dough meets cool crushed peppermint and the result is highly addictive.
These pie crust cookies are the easiest and best cookies for cookie exchange swaps! They're made with store-bought pie crust and just a few more ingredients, and come out crisp, buttery, and flaky and swirled with cinnamon and sugar! Plus, the recipe includes instructions for a vanilla icing AND a salted caramel dipping sauce!
Vegan - Gluten Free
These gluten-free snickerdoodle cookies are pillowy-soft, cinnamony sweet, and perfect for your cookie exchange, or to share with your family and friends this holiday season.
Gingerbread is a must during the holiday season. Not only are these reindeer cookies cute, their spiced dough and sweet royal icing decorations make them a great gift.
These Christmas Sugar Cookies are simple, soft, and buttery! They bake up perfectly shaped, stay soft and tasty for days, and are fantastic to cover in sweet icing. These sugar cookies are perfect for your cookie exchange and to give away as gifts for the holidays!
Truly classic, yet unique cookies for cookie exchange swaps! These soft, richly sweet, deeply spiced gingerbread cookies are based on Claudia Fleming's iconic stout gingerbread cake recipe from Gramercy Tavern. This bite-sized cookie version is made with Guinness stout and topped with a nutty brown butter cream cheese frosting.
AIP - Vegan - Paleo
These 'Chocolate' Plantain Chip cookies are thin, light, crispy, and so addictive. They're the perfect chocolate wafer with a sweet and savory twist and they're also AIP, paleo and vegan!
Vegan Recipe
These Vegan Double Chocolate Pecan Cookie Bars are made chocolate dusted pecans that are folded into a chocolate chip batter and then baked to perfection! A perfect vegan holiday treat!
These Browned Butter Toffee Cookies are delightfully soft and chewy, made using browned butter, skor toffee bits and a hint of vanilla; which make for a very irresistible treat! These are the best cookies for cookie exchange parties because they're deliciously addictive, and the perfect treat to share with family and friends!
Now that you have the recipes for the best cookies for cookie exchange parties, you need to know how to showcase them! This post guides you on how to make a Christmas treat charcuterie board from start to finish! You can use any of the amazing cookies from this list, or any of the recipes from my 12 Days of Christmas Cookies. Either way, you can make an EPIC grazing board to display treats and cookies for cookie exchange parties all season long!
Tips and F.A.Q. for the Ultimate Cookie Exchange
How does a Christmas cookie swap work?
For most cookie exchange parties, the host will set up the party much like a potluck: she will decide how many cookies each guest brings (typically one dozen per guest), and even assign cookie types if desired -- one guest will bring chocolate chip cookies, another will bring sugar cookies, etc. Guests can also be asked to bring copies of their recipe to share. The host will also manage dietary restrictions or other considerations.

On the day of the swap, guests will bring their cookies and the host will set them all up on a large table, next to copies of the corresponding recipes. Guests can mingle and enjoy cookies and other refreshments, and at the end of the party they can take home some of each cookie!
What do you serve at a cookie swap?
Besides the cookies, of course, the host may want to provide light snacks and drinks -- maybe some cinnamon kettle corn, an appetizer dip, an easy puff pastry tart, and some festive cider or a Mistletoe Margarita! The cookie swap party menu can vary depending on the host and the size of the group, but it should always be festive and fun!
What are the rules for a cookie exchange?
The cookie exchange rules are typically set by the party host, but they often include that each guest must bring 6-12 cookies per attendee, plus another 6-12 to enjoy during the party. Hosts set the recipe types, dietary restrictions, and packaging guidelines.
How do you hold a virtual cookie exchange?
If you're unable to meet in person, a virtual cookie exchange party can be fun as well! You can either send cookies through the mail for each guest to enjoy during the video call, or probably the easiest idea would be for the host to compile each guest's recipe into an e-book! Then, the host would send the e-book to everyone in advance and each guest can choose a recipe to bake during the call!
How many cookies do you make for a cookie swap?
Usually the host will decide on the amount per guest, but it's typically one dozen cookies per attendee at the cookie exchange party.
Happy Holidays!
I hope you enjoy these cookie recipes for a party, and that you are able to try some of these cookies for cookie exchange swaps this year! To me, cookies are a sweet symbol of the love and support we try to show each other this time of year -- the effort and attention that comes through in every bite really lets our loved ones know how much we care.
So thank you so much for including these recipes in your traditions this year. It's my hope that all your holiday cooking and baking finds you and your family happy, healthy, and surrounded by love and comfort this holiday season!
PIN these cookies for cookie exchange parties coming up!
Last Updated on September 13, 2022 by Chenée Lewis